Shaping the Sunshine State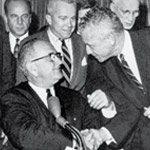 Have you ever wanted to take a peek inside the archives of some of Florida's most influential elected officials and public servants? The USF Tampa Library's Special Collections department houses the papers of a number of political figures who played significant roles in the transformation of Florida from a state dominated by politicans schooled in the traditions of the rural South to a dynamic, urban-based 'Sunbelt' state.
---
"The USF Libraries' collection of political papers are an invaluable resource for local history — one that must be preserved for future generations of leaders."
– The Honorable Betty Castor
The local and state political papers housed in Special Collections constitute one of the largest single elements of the department's archival collections and reflect a long-term investment in the USF Libraries as a research destination. As important new materials are given to the department, from Jim Davis, H. Lee Moffitt, Pam Iorio, and others, it is essential that they be cataloged and processed for free access by researchers, policymakers, and students seeking to tackle today's tough issues. After all, the path to success often benefits from looking to the past to understand what works and what does not.
Contact USF Libraries Special Collections in order to use these materials in your research.
---
Have questions? Interested in making a gift to the USF Libraries? Contact:
USF Libraries Development Office
(813) 974-4433 | Email us
---