Affiliated Libraries
In addition to the Tampa Library, there are three affiliated regional libraries and two special libraries.
At USF Tampa are the Shimberg Health Sciences Library, serving the needs of USF Health consisting of the Colleges of Medicine, Nursing, and Public Health; and the Louis de la Parte Florida Mental Health Institute (FMHI) Research Library serving the College of Behavioral and Community Sciences.
The separately accredited University of South Florida St. Petersburg is home to the Nelson Poynter Memorial Library; the Sarasota-Manatee campus is home to the Jane Bancroft Cook Library.
Hinks and Elaine Shimberg Health Sciences Library
MDC31
12901 Bruce B. Downs Blvd.
Tampa, FL 33612
Phone: 813-974-2243
Fax: 813-974-4840
---
Nelson Poynter Memorial Library
USF St. Petersburg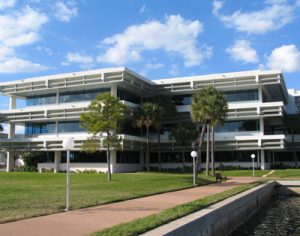 140 7th Avenue South
St. Petersburg, Florida 33701
Phone: 727-873-4123
Fax: 727-873-4196
---
Jane Bancroft Cook Library
USF Sarasota-Manatee
5800 Bay Shore Rd
Sarasota, FL 34243
Phone: (941) 487-4301
---